Leadership
Steering our growth and driving our vision.
STEWARDSHIP
Our Senior Management
Our team of leaders guide the firm's strategic growth, reinforcing our values-driven culture of integrity, teamwork and outperformance. This drives our vision to be one of Asia's leading asset management companies, renowned globally for our investment expertise and recognised for the highest standards of sound and disciplined investment process, strong client focus, and a track record of growing our clients' wealth through superior returns over the investment cycle.
Learn More About LGI-OCBC Securities China Leaders ETF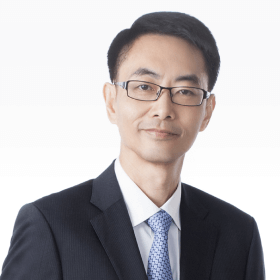 Chief Executive Officer
Chief Investment Officer
Teo Joo Wah is Chief Executive Officer at Lion Global Investors. Joo Wah is also concurrently the Chief Investment Officer and he has been leading the Investment Division since 2014.
Joo Wah has more than 30 years of banking and investment experience. He started his banking career with DBS Bank and has previously worked in Temasek Holdings as a Director in the Fund Management Division. He was also a Senior Vice President with Fullerton Fund Management Company.
Joo Wah graduated from the National University of Singapore with a degree in Business Administration. He holds the CFA designation and has been recognised by The Institute of Banking & Finance (IBF) as an IBF Fellow.
James Tan
Chief Operating Officer
James Tan is the Chief Operating Officer at Lion Global Investors, overseeing the operations, finance, technology and risk and compliance functions.
James has 27 years of experience in operations and information technology. Prior to Lion Global Investors, he was a director at Credit Suisse where he headed up its Asia Cash Securities Operations. He was previously Executive Director at Morgan Stanley Investment Management Company, the asset management arm of Morgan Stanley, where he oversaw its Asia Pacific operations.
James graduated from the National University of Singapore in 1989 with a Bachelor of Accountancy (Honours).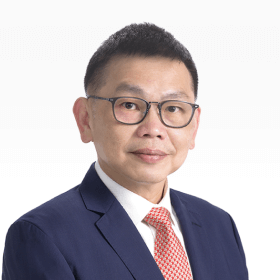 Kwok Keng Han
Chief Marketing Officer
Kwok Keng Han is the Chief Marketing Officer at Lion Global Investors. He oversees the Business Development Division which consists of the international, institutional and distribution business units.
An accomplished C-Suite executive with over 20 years in senior management roles, Mr. Kwok brings extensive experience in building and growing multi-channel businesses in asset and wealth management across Asia. He has successfully worked with banks, insurance companies and emerging distributors during his stint with Allianz Global Investors and First State Investments.
Keng Han most recently held the role of Chief Executive Officer at Navigator Investment Services where he provided leadership and direction for their platform business.
Keng Han holds a Masters of Business Administration from The University of Hull. He is also a graduate of the National University of Singapore with a Bachelor of Accountancy.
Get in Touch
Let us know if you would like further information about our funds and investment solutions.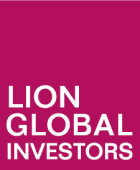 Disclaimer
Terms and conditions for accessing the Lion Global Investors Limited (Lion Global Investors) website.
By accessing our website, you represent and warrant that you are either a Singapore resident or the relevant laws and regulations of your jurisdiction allow you to access the information contained herein. Please read and acknowledge your agreement to the terms and conditions herein.
The funds mentioned in this website are collective investment schemes authorised or recognised by the Monetary Authority of Singapore (the "MAS") for sale or purchase in Singapore. This advertisement or publication has not been reviewed by the MAS. It is prepared solely for information purposes and does not constitute an offer or solicitation for the purchase or sale of units in the funds. Although Lion Global Investors endeavours to ensure that the information contained herein is accurate, Lion Global Investors does not represent or warrant the accuracy, validity or completeness of the information contained in this website and does not accept any liability for any damages or loss, including loss of profit, whether direct, indirect, economic or consequential, arising from any person's reliance on the information contained herein. Lion Global Investors shall not be liable for any errors or omissions (including but not limited to errors or omissions of third parties) in the information contained herein.
All applications for units in the funds must be made on application forms accompanying the prospectus. Investors should read the relevant prospectus carefully for details on the funds before deciding whether to subscribe for or purchase units in the funds. A copy of the prospectus can be obtained from the fund manager of the funds, or any of its approved distributors. Lion Global Investors' funds, unless otherwise stated, are not obligations of, deposits in, or guaranteed or insured by, Lion Global Investors or any of its affiliates. An investment in the funds is subject to investment risks, including the possible loss of the principal amount invested. Past performance of the Fund and the manager as well as any projection or forecast used in this website, are not necessarily indicative of future or likely performance of any funds. The value of units in the fund(s) and the income accruing to the units, if any, may fall or rise. Notwithstanding the foregoing, no offer or solicitation for the purchase or sale of units in the funds is made to anyone in a jurisdiction in which such distribution or offer is not authorised or to any person to whom it is unlawful to distribute such information or make such an offer or solicitation, or which would subject Lion Global Investors to any registration requirement within such jurisdiction, including the United States of America.
Any information, opinion or view presented herein is subject to change without notice. The information provided in this website may contain projections or other forward looking statements regarding future events or future financial performance of countries, markets or companies. Investors must make their own assessment of the relevance, accuracy, adequacy and reliability of the information provided in this website and make such independent investigations as they may consider necessary or appropriate for the purpose of such assessment. Any opinions , estimates, graphs, charts, formulae or devices provided in this website are made on a general basis and is not to be relied on by investors as advice. Accordingly, no warranty whatsoever is given and no liability whatsoever is accepted for any loss arising whether directly or indirectly as a result of investors acting on any information, views, opinions, projections, estimates, graphs, charts, formulae or devices provided in this website. Lion Global Investors reserves the right to make changes and corrections to any of the aforesaid at any time, without notice.
This website is not intended to provide specific investment, tax or legal advice or to make any recommendations about the suitability of any funds for any particular investor. No consideration has been given to the specific investment objective, financial situation and particular needs of any specific person, and the information herein should not be used as a substitute for any form of advice. Investors should seek their own independent financial, legal, regulatory, tax or other advice before making an investment in the funds. In the event that Investors choose not to seek advice from a financial adviser, Investors should consider whether the fund is suitable for them.
Lion Global Investors, its related companies, their directors, officers and/or employees (collectively known as "Related Persons") may have positions in the funds mentioned in this website. Lion Global Investors and its Related Persons may be engaged in purchasing or selling the funds mentioned in this website for themselves or their client.
Please note that information contained in this website cannot be copied, modified, published, distributed or reproduced in whole or in part without the prior written consent of Lion Global Investors. Where this website contains hyperlinks to third party websites, you understand that such third party websites are independent from our website and the use of such links is entirely at your own risk. Lion Global Investors accepts no responsibility for the content, or the use of, such a website and shall not be liable for any loss or damage caused or alleged to be caused by or in connection with use of or reliance on any such content, goods or services available on or through any such third party website.
© Lion Global Investors Limited. All rights reserved.
(UEN/Registration No. 198601745D) A member of the OCBC Group
I have read and accepted the present terms and conditions of use.