LATEST NAV
**IntraDay NAV
Disclaimer - Lion Global Investors Limited
The IntraDay NAV (iNAV) shown is provided by Markit Group Limited ("IHS Markit"). The iNAV is indicative and for reference purposes only. It may differ from the actual NAV calculated in accordance with the Trust Deed and should not be viewed as the actual NAV. Please refer to the actual NAV on our website.
Disclaimer - IHS Markit
Neither IHS Markit, its affiliates nor any of its third party data providers makes any warranty, express or implied, as to the accuracy, completeness or timeliness of the data contained herein nor as to the results to be obtained by recipients. IHS Markit has no obligation to update, modify or amend this data or to otherwise notify a recipient if any data changes or subsequently becomes inaccurate. Without limiting the foregoing, neither IHS Markit, its affiliates nor any third party data provider shall have any liability whatsoever to you, whether in contract (including under an indemnity), in tort (including negligence), under a warranty, under statute or otherwise, in respect of any inaccuracies, errors or omissions, or any loss or damage suffered by you as a result of or in connection with the IHS Markit data contained herein. All intellectual property and other proprietary rights comprised in the IHS Markit data are and shall be the exclusive property of IHS Markit.
¶ Indicative NAV
Indicative NAV per unit in USD is for reference only and is calculated using the actual NAV per unit in SGD converted into USD, using the exchange rates quoted by Reuters at 4:00 p.m. (Hong Kong time) as of the same Dealing Day.
Fund Overview
Introduction
Climate change is the defining crisis of our time. As the biggest long-term threat to humanity, the global transition to a low-carbon economy is more urgent than ever. Investors now recognize the importance to manage the risks and seize the opportunities that climate change presents. Indeed, there is growing capital allocated to align investment portfolios with a low-carbon and climate resilient future. The Lion-OCBC Securities Singapore Low Carbon ETF allows you to partake in the decarbonisation journey of Singapore's real and financial economy.

Investment Objective
The investment objective of the Fund is to replicate as closely as possible, before expenses, the performance of the iEdge-OCBC Singapore Low Carbon Select 50 Capped Index using a direct investment policy of investing in all, or substantially all, of the underlying Index Securities.
The Index is compiled and calculated by the Index Provider and aims to track the top 50 companies (including Real Estate Investment Trusts and Business Trusts) by Free-Float Market Capitalization that are representative of Singapore's real and financial economy, with a focus on index decarbonisation through the reduction of Weighted Average Carbon Intensity (WACI) of the Index. Index decarbonization is achieved through selection of constituents with minimal involvement in fossil fuels, and through the implementation of the Carbon Performance Exclusion Criteria that ensures best-in-class selections based on Scope 1 and 2 Greenhouse Gas (GHG) emissions per unit revenue.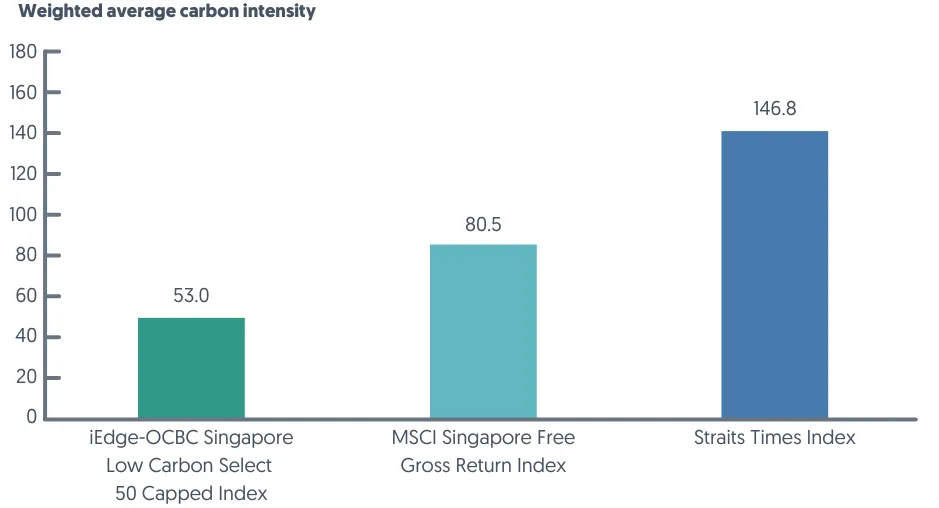 Source: SGX Index Edge as of 31 March 2023.
As at the latest rebalancing date in March 2023, the Index's weighted average carbon intensity (WACI) is lowest at 53 when compared to the Straits Times Index (STI) and MSCI Singapore Free Gross Index (SIMSCI).
Do Good. For Your Portfolio And Our Planet

Join the global community in its efforts to avert the serious consequences of climate change.
Support Singapore and Singapore companies in their transition to a low-carbon economy.

Capture growth opportunities of Singapore companies, both local and foreign listed.

Mitigate investment risks arising from climate change by investing in a lower carbon, climate-aligned portfolio.
Within Your Reach

Excluded Investment Product (EIP)

Start investing from as little as S$1**
**Assumes issue price of S$1 per unit, excluding fees and charges


Invest using cash or Supplementary Retirement Scheme.

Fund Pricing
The above chart is based on historical NAVs of the Fund. Past performance is not necessarily indicative of future performance.
Source: Lion Global Investors
Fund Performance
Top 10 Constituents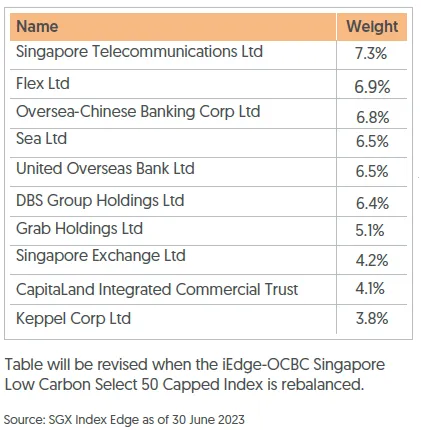 Sector Breakdown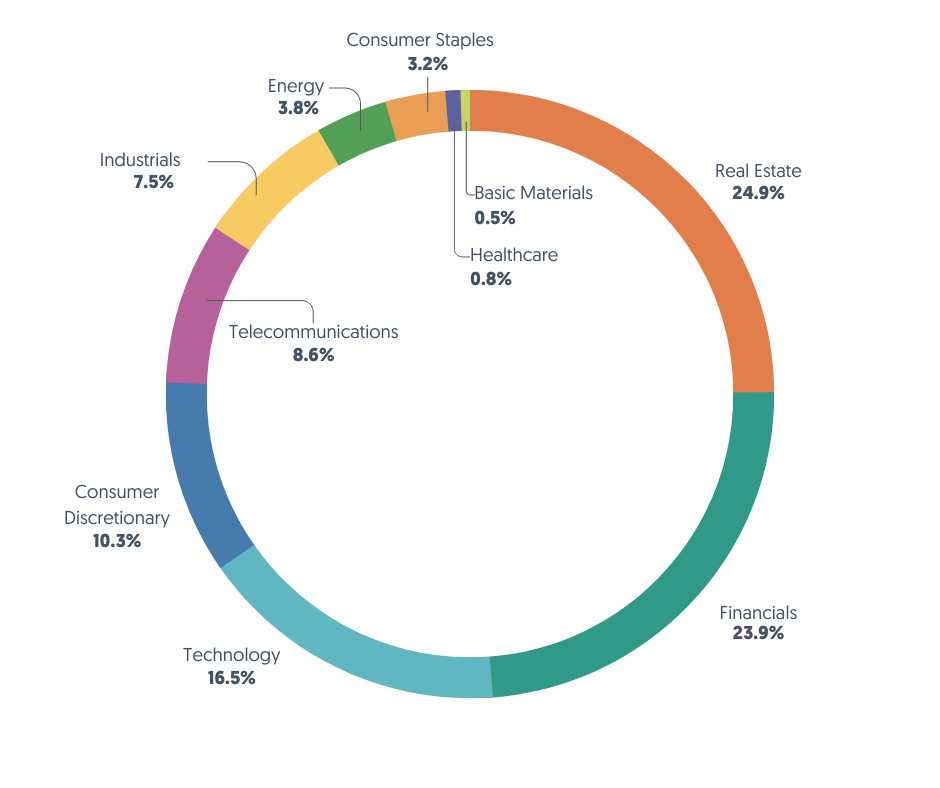 Breakdown By Country of Listing
Tracking Difference/Error
As of

30 September 2023

Fund Listing Date
28 April 2022
Tracking Difference
Tracking Error

SGD:

Rolling 1 Year Annualised:

0.30%
Dividend Payout History
Download Dividend Payout History
Fund Information
Underlying Index
iEdge-OCBC Singapore Low Carbon Select 50 Capped Index
Index Provider

Singapore Exchange Limited (Carbon Intensity Data provided by Sustainlytics1)

1

Sustainalytics is an award-winning global responsible investment research firm specialised in environmental, social and governance (ESG) research and analysis. The firm offers global perspectives and solutions that are underpinned by local expertise, serving both values-based and mainstream investors that integrate ESG information and assessments into their investment decisions. Sustainalytics conducts quality assurance checks to address common reporting errors by companies, such as:

• Year on year comparisons• Subindustry comparisons

• Validation of previous emission figures restated/new data reported by the company
Singapore Exchange Limited represents that in creating the Indices, it has whole discretion in construing the formula, performing the necessary calculation and determining the input data.

Currency of Account (Base Currency)
SGD
Trading Currency
SGD / USD
SGX Code
ESG (SGD), ESU (USD)
Bloomberg Ticker
ESGSG SP (SGD), ESGUS SP (USD)
Issue Price
SGD 1.00
Trading Board Lot Size
1 unit
Management Fee
0.40% per annum
Expense Ratio
Capped at 0.45% per annum for 2 years from the inception of the Fund
Dividend Distribution

Semi-annual Distribution at the Discretion of the Fund Manager (June and December)2

2The ETF announced its first distribution in December 2022.

Replication Strategy
Direct Replication or Representative Sampling
Classification Status
Excluded Investment Product
Designated Market Maker
Flow Traders Asia Pte Ltd, Phillip Securities Pte Ltd
Participating Dealers
OCBC Securities Pte Ltd, CGS-CIMB Securities (Singapore) Pte Ltd, Flow Traders Asia Pte Ltd, Futu Singapore Pte Ltd, iFAST Financial Pte Ltd, Phillip Securities Pte Ltd, Tiger Brokers (Singapore) Pte Ltd, UOB Kay Hian Pte Ltd
Important Notes For Lion Global Investors
Disclaimer – Lion Global Investors Limited
This advertisement or publication has not been reviewed by the Monetary Authority of Singapore. It is for information only, and is not a recommendation, offer or solicitation to deal in any capital markets products or investments and does not have regard to your specific investment objectives, financial situation or particular needs. You should read the prospectus and Product Highlights Sheet for the Lion- OCBC Securities Singapore Low Carbon ETF ("ETF"), which is available and may be obtained from Lion Global Investors Limited or any of the appointed Participating Dealers ("PDs"), before deciding whether to purchase units in the ETF. Investments are subject to investment risks including the possible loss of the principal amount invested.
The performance of the ETF, the value of its units and any accruing income are not guaranteed and may rise or fall. Past performance, payout yields and payments and any prediction, projection, or forecast are not indicative of the future performance, payout yields and payments of the ETF. Any extraordinary performance may be due to exceptional circumstances which may not be sustainable.
The ETF's net asset value may have higher volatility as a result of its narrower investment focus on a limited geographical market, when compared to funds investing in global or wider regional markets.
You should independently assess any information, opinion or estimates, graphs,charts, formulae or devices provided and seek professional advice on them. Any information, opinions, estimates, graphs, charts, formulae or devices provided are subject to change without notice and are not to be relied on as advice. The ETF may invest in financial derivative instruments for hedging or for efficient portfolio management.
The units of the ETF are listed and traded on the Singapore Exchange ("SGX"), and may be traded at prices different from its net asset value, suspended from trading, or delisted. Such listing does not guarantee a liquid market for the units. You cannot purchase or redeem units in the ETF directly with the manager of the ETF, but you may, subject to specific conditions, do so on the SGX or through the PDs.
Any dividend distributions, which may be either out of income and/or capital, are not guaranteed and subject to the Manager's discretion. Any such dividend distributions will reduce the available capital for reinvestment and may result in an immediate decrease in the net asset value of the ETF.
© Lion Global Investors Limited (UEN/ Registration No. 198601745D). All rights reserved. LGI is a Singapore incorporated company and is not related to any corporation or trading entity that is domiciled in Europe or the United States (other than entities owned by its holding companies).
Important Notes For Singapore Exchange Limited
Disclaimer – Singapore Exchange Limited
The units in the Lion-OCBC Securities Singapore Low Carbon ETF are not in any way sponsored, endorsed, sold or promoted by the Singapore Exchange Limited ("
SGX
") and/or its affiliates and SGX and its affiliates make no warranty or representation whatsoever, expressly or impliedly, either as to the results to be obtained from the use of the iEdge-OCBC Singapore Low Carbon Select 50 Capped Index and/or the figure at which the iEdge-OCBC Singapore Low Carbon Select 50 Capped Index stands at any particular time on any particular day or otherwise. The iEdge-OCBC Singapore Low Carbon Select 50 Capped Index is administrated, calculated and published by SGX. SGX shall not be liable (whether in negligence or otherwise) to any person for any error in the Lion-OCBC Securities Singapore Low Carbon ETF and the iEdge-OCBC Singapore Low Carbon Select 50 Capped Index and shall not be under any obligation to advise any person of any error therein.
OCBC is a registered trade mark of Oversea-Chinese Banking Corporation Limited and is used under licence. Save for the foregoing, all intellectual property rights in the iEdge-OCBC Singapore Low Carbon Select 50 Capped Index vest in SGX. The iEdge-OCBC Singapore Low Carbon Select 50 Capped Index is used by Lion Global Investors Limited under licence.